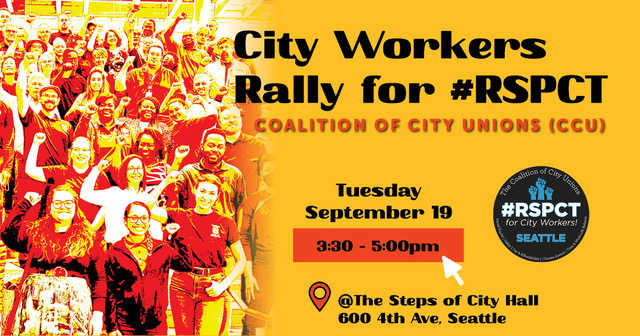 The Coalition of City Unions is calling for a rally on the steps of Seattle City Hall to support workers currently in contract negotiations with the city. The CCU represents thousands of city workers across eleven unions, including IATSE #15 who have been engaged in negotiations since September of last year. The city did not provide their first economic proposal until March of this year, and in that proposal they have proposed a 1% cost of living adjustment. The City has acknowledged that these workers were underpaid before the pandemic and are now critically underpaid, but still insist that a 1% increase in wages is somehow enough for city workers.
Come out to City Hall on September 19th to show your support for our Union kin and our own workers fighting to get Racial Equity, Safety, Pay and Affordability, Climate Justice, and Time/Work-life balance from our city!
You can see some info about this from our fellow union, Protec17 here!